Warning
: Creating default object from empty value in
/home/b01lond/public_html/plugins/acymailing/tagcontent/tagcontent.php
on line
811
Warning
: Creating default object from empty value in
/home/b01lond/public_html/components/com_acymailing/views/archive/view.html.php
on line
225
Club Rub Saints and Sinners Jan 19th
Club RUB and Rubber Cult Newsletters
If you can't view the email please click here to view online.
HAPPY NEW YEAR. Wishing you a happy, healthy and prosperous 2013.
Let's start the New Year the way we would like to carry on, by adding all the Club RUB dates to your diary now. Make it your 'regular' for 2013. In 15 years Club RUB has operated EVERY month. I (MIss KIM) have not missed a single one! That's pretty unique. I love my job :)
Next event January 19th 2013 is Saints and Sinners theme. From 10pm to 4am at The White Swan 20 Farringdon Street, London EC4A 4AB.
Club RUB is a real fetish club with a strict dress code, run by a fetishist - Miss KIM. On the scene for 24 years!
Facebook - January 19th - say "I'm going"
Fetlife - January 19th - say "I'm going"
Pinterest Saints and Sinners folder.
RUB is a fetish club. The themes are serving suggestions only. Even though this month is Heaven and Hell theme, you may wear ANY fetish clothing. Absolutely NO streetwear or normal trousers.

Club RUB is the only club that releases all 12 dates before the New Year starts. The 2013 are at the end of this page. These could be subject to change at any time. Always check the website prior to departing home.
Tickets for all events.
The Club RUB flyer art was specially commissioned from artist Oliver Harud.
Marquis magazine subscription prize.
Floggermeister prize.
Mistress Workshop is on January 12th 2013. Taught by Miss KIM.
Master Workshop is on January 19th 2013. Taught by Michael Cain. A Club RUB workshop.
Latex Workshop on Saturday January 5th and 26th 2013. Taught by Miss KIM.
Absolutely NO cameras. This is a self-policing process and it's for your benefit - not anyone else's! Offenders will be sent to hell!
Photos are by Zac Zenza. More to come. They will go in the Gallery.

Fill shot glasses with cold water and place on your subs body. Then do something that will make them want to move. If, or when, they do they will get a cold splash. You can give a punishment for spilling the water.

CHRISTMASSY BALL

Dearest Kim,
I just wanted to say thank you so much for organising such a fantastic night last night. It really was the best fun I've had in years. Everyone was really friendly and I felt very welcomed and loved. The music was fantastic and I danced my little arse off. I really hope I can come again one day. Thank you again and I hope to see you all again sometime next year. Susan
Hi Miss rub,
We are friends of vikki (missvik) we came with her last night to you fetish club it was our first time on the scene and we would just like to say THANK YOU !! sooo much we had a fantasic time and will defo come again x G&T
Hi KIM,
What a fab night last night was, i danced till my feet hurt x Michiyo
Hi Kim,
Fankoo for another awesome one honey!!! Kamazixxx
Hi Kim,
Wanted to thank you for everything last night. Apparantely i Have been a good girl, i got lots of treats :) My friends had a great night too, and are looking forward to the next event. Enjoy your relaxing day, you deserve it :) Miss Vik xxx
Hi Miss Kim,
I had so much fun! Thanks to you and Amy for a great night. Santa was very very naughty, i'm still sore! Merry naughty Christmas darling. DiscoTits xxxxx
Hi KIM,
Grrreat night at Rub! Loved being Santa, worth every penny LOL! If everyone enjoyed themselves as much as I did then a lot of people had a lot of fun! Well done Kimmy! Tim x
Hi Kimbo,
I had copious amounts of fun that's for sure!! Was I a good girl Santa? :) Synth
Hi Miss rub,
Great night!! Had so much fun... ;) HumblyYours
Hi Santa Kim,
Fab outfit as always. No one picked up on my 'Buttons' oufit (didn't find Cinder's either). Great people and outfits. Seasons greetings. Stay hooded. Keep it fetish. Alan x
Hi Kim,
It was a great night with lovely people! Squiffer
Hello Kim,
Thanks so much for a fantastic start to the holiday season. I hope Santa gave you all the toys you asked for! E&T
Hi Kim,
Had such a fabulous night. Can't wait for the next one! Thanks soo much Ms KIM! Love Chuckle x
Hi Miss Kim,
Best Christmas party! great fun and fab people! Happy Christmas Ho Ho Ho! Adam x
Hi Kim,
Ya, festive fun all round! I shall wear my socks (Santa gift) proudly to work tomorrow :-) x
Hi Kim,
Me and my friend thoroughly enjoyed your Yule do! It was her first time at a fetish club but she threw herself into all activities with great enthusiasm! while for me it was a first at Club Rub and the first for nearly 4 years. We found the people so open and friendly, the music great for dancing and, most of all, the effort that people had put in to their costumes! Will definitely come again! K and C.
Hi Miss Kim,
Had a brill time at Club Rub Christmas party last night! So many lovely friendly folks! thanks Kim!XXX

Click on the date to buy ticket


If you haven't visited us before, please click here!
You will find all information about Venue, Tickets, Dresscode, Do's and Don'ts and many more. Please read all info carefully to avoid disappointment!

That's all for today.
Looking forward to seeing you all on

Saturday, January 19th 2013

Love,

Miss KIM x

< Club RUB presents Rubber Cult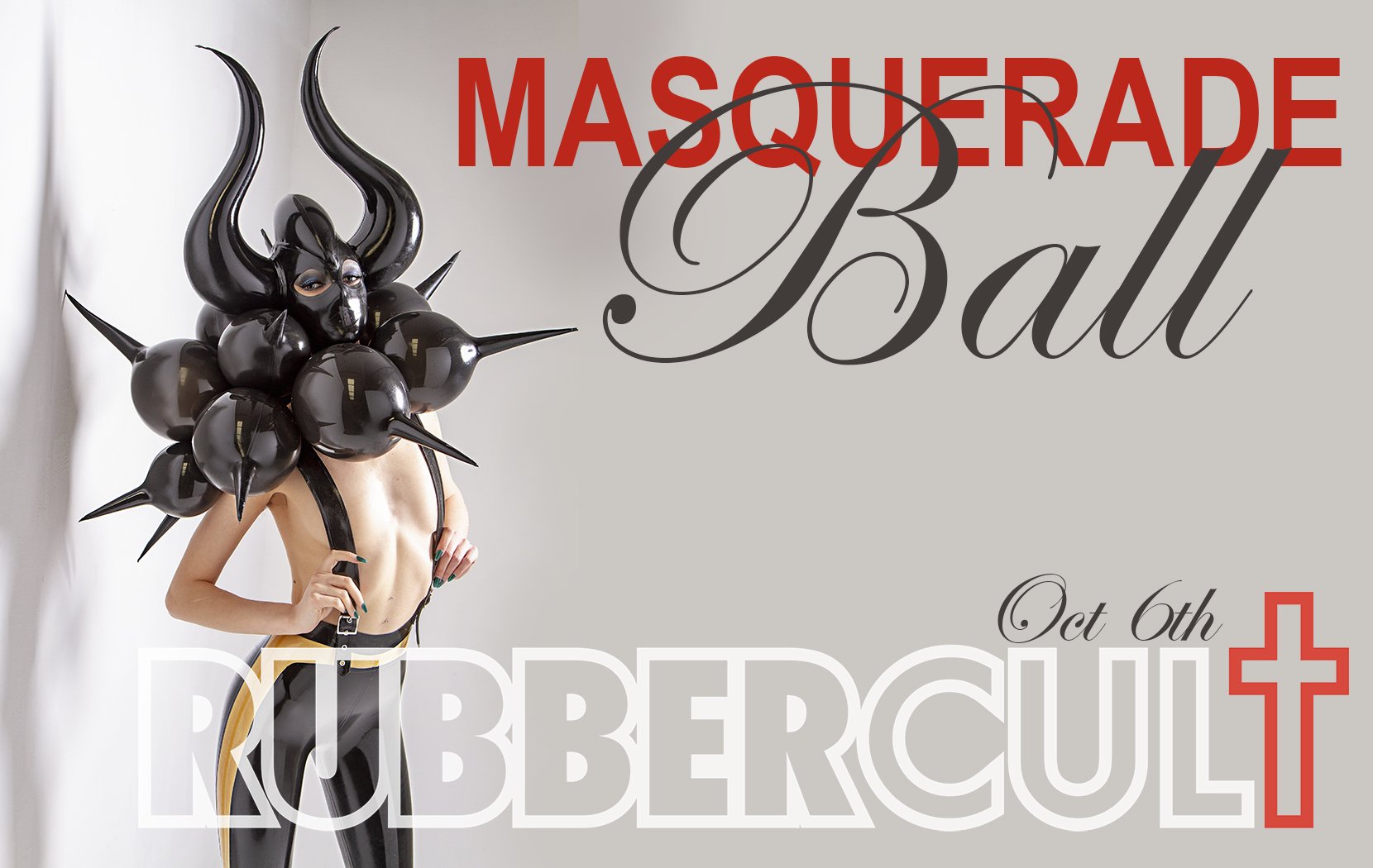 Happy New Year Rubberists, Fetishists and Friends.
Only a month to go! Rubber Cult is on February 2nd 2013.
Rubber Cult presents to you our second event, Rubber Cult II. The UK's ONLY total rubber event.
With a rubber ONLY dress code, rubber cabaret, catwalk, rubber installation art, rubber Mistress, specialist rubber play equipment and so so much more.
You may have missed our opening event but you won't have missed the buzz following it?! Don't loose out again as Rubber Cult returns - The Second Coming.
Rubber Cult - The Second Coming - will take place on Saturday February 2nd 2013 from 8pm to 2am. At Shillibeers, Carpenter's Mews, North Road, Islington, N7 9EF. £20 each on the door.
Tickets can be purchased from:
* Liberation 49 Shelton Street Covent Garden LONDON WC2H 9HE – 0207 836 5894 libidex.com
* Atsuko Kudo 64 Holloway Road LONDON N7 8JL – 0207 697 9072 atsukokudo.com
* Breathless 131 Kings Cross Road LONDON WC1X 9BJ – 020 7278 1666 breathless.uk.com
* House of Harlot Shop 2, 63-65 Princelet Street LONDON E1 5LP house-of-harlot.com
* Honour 86 Lower Marsh Waterloo LONDON SE1 7AB honour.co.uk
Email Kim to book your place if you are unable to get to the shops. One email per person. This event will sell out.
All entertainment throughout the night is designed with you in mind, a rubberist's fantasy. Every act and every installation coated in latex! We also have a fully equipped dungeon playroom complete with inflatable rubber body bag and hospital corner equipped with many beds!
We keep the vibe going with house music which will be kept at a background level providing the perfect level for socializing with other rubberists.
Your leaders are Cynth Icorn who is a model and performance artist. Miss Kim of Club RUB has been a promoter for 17 years (her photos on page 12 of her gallery).
* * * * * * * * * * * * * * * * * * * * * * * * * * * * * * * * * * * * * * * * * * * * * * * * * * * * * *
PERFORMANCES & ATTRACTIONS:
If you came to the first Rubber Cult you will have a shiny white plastic card to prove it! Come to the second one and get the gorgeous shiny BLACK card hand delivered to you by our rubber gypsy fortune teller.
Arrive early for the art exhibition. See the work of amazing artist Lady Arrakis.
Plus the first 70 people get a free glass of bubbly! Don't arrive late as we close at 2pm.
The dark and deviant Lottie Kixx will perform.
Adam Electric will again astound us with an art installation.
Marnie Scarlet will give us two shows and debut a new rubber performances, especially for us.
Mistress Rouge will demonstrate many of her own items of rubber bondage in the dungeon.
Latex Clothing performance showcasing Dudea.
Rubber Cult petting zoo and rubber stables!
Photo Booth will be capturing your amazing latex outfits.
Best Total Enclosure costume wins a great prize TBC.
Visit the Rubber Cult hospital and see out team of speciallity nurses. With lots of rubber bandage too! Lay back and enjoy the inflatable body bag.
Latex shine will be available from our nurse in the hospital corner.
Loads of seating and cozy sofas. There's a large space for changing and big cloakroom.
Gallery from September 2012 by Jan Fetishclubpix. More images here.
Latex life drawing art from September 2012.
Bye for now. Stay shiny,
Cynth Icorn and Miss KIM x x
* * * * * * * * * * * * * * * * * * * * * * * * * * * * * * * * * * * * * * * * * * * * * * * * * * * * * *